January 11, 2022
@The Intersection Symposium
8:30 am – 3:30 pm
On January 11, Mayor Nirenberg is convening an all-day working symposium as an extension of the weekly interfaith group that Rabbi Lisa participates in regularly. We are invited to send a team of 2-6 participants. If you are interested in participating on behalf on Congregation Shalom, email Rabbi Lisa Goldstein and she will send you the registration information.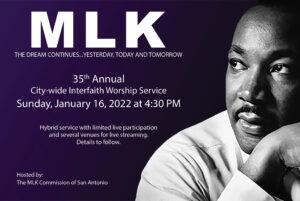 35th Annual Martin Luther King, Jr. March
January 17, 2022 at 10:00 a.m.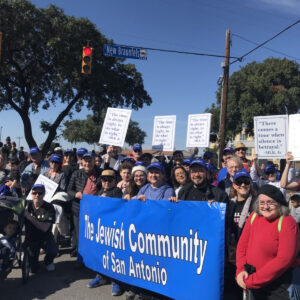 On Monday, January 17, join together with Congregation Shalom members and Jews throughout San Antonio to unite and participate in the annual MLK Day March. The 2.5 mile March starts at 10:00 a.m. at the Martin Luther King, Jr. Academy, travels up Martin Luther King Drive, and ends at Pittman Sullivan Park, on the City's historic East Side. This year, participants are asked to wear masks and practice safe social distance protocols

The Jewish Federation will offer free bus transportation to and from the JCC parking lot to the drop off location at 3501 MLK Blvd. Space is limited and is available on a first-come, first-serve basis. The bus will leave at 8:30 a.m. and will return to the JCC parking lot by around 12:30 p.m. You can reserve your space on the bus here.